Download a printable list of Rhys Bowen's books in order
In Farleigh Field (2017)
World War II comes to Farleigh Place, the ancestral home of Lord Westerham and his five daughters, when a soldier with a failed parachute falls to his death on the estate. After his uniform and possessions raise suspicions, MI5 operative and family friend Ben Cresswell is covertly tasked with determining if the man is a German spy. The assignment also offers Ben the chance to be near Lord Westerham's middle daughter, Pamela, whom he furtively loves. But Pamela has her own secret: she has taken a job at Bletchley Park, the British code-breaking facility.
As Ben follows a trail of spies and traitors, which may include another member of Pamela's family, he discovers that some within the realm have an appalling, history-altering agenda. Can he, with Pamela's help, stop them before England falls?
Inspired by the events and people of World War II, writer Rhys Bowen crafts a sweeping and riveting saga of class, family, love, and betrayal.
Buy it: IndieBound | Amazon | BN.com | Book Passage | Audible Audiobook
---
The Tuscan Child (2018)
In 1944, British bomber pilot Hugo Langley parachuted from his stricken plane into the verdant fields of German-occupied Tuscany. Badly wounded, he found refuge in a ruined monastery and in the arms of Sofia Bartoli. But the love that kindled between them was shaken by an irreversible betrayal.
Nearly thirty years later, Hugo's estranged daughter, Joanna, has returned home to the English countryside to arrange her father's funeral. Among his personal effects is an unopened letter addressed to Sofia. In it is a startling revelation.
Still dealing with the emotional wounds of her own personal trauma, Joanna embarks on a healing journey to Tuscany to understand her father's history—and maybe come to understand herself as well. Joanna soon discovers that some would prefer the past be left undisturbed, but she has come too far to let go of her father's secrets now…
Buy it: IndieBound | Amazon | BN.com | Book Passage | Audible Audiobook
---
The Victory Garden (2019)
As the Great War continues to take its toll, headstrong twenty-one-year-old Emily Bryce is determined to contribute to the war effort. She is convinced by a cheeky and handsome Australian pilot that she can do more, and it is not long before she falls in love with him and accepts his proposal of marriage.
When he is sent back to the front, Emily volunteers as a "land girl," tending to the neglected grounds of a large Devonshire estate. It's here that Emily discovers the long-forgotten journals of a medicine woman who devoted her life to her herbal garden. The journals inspire Emily, and in the wake of devastating news, they are her saving grace. Emily's lover has not only died a hero but has left her terrified—and with child. Since no one knows that Emily was never married, she adopts the charade of a war widow.
As Emily learns more about the volatile power of healing with herbs, the found journals will bring her to the brink of disaster, but may open a path to her destiny.
Buy it: IndieBound | Amazon | BN.com | Book Passage | Audible Audiobook
---
Above the Bay of Angels (2020)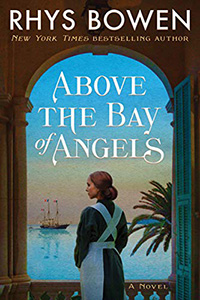 Isabella Waverly only means to comfort the woman felled on a London street. In her final dying moments, she thrusts a letter into Bella's hand. It's an offer of employment in the kitchens of Buckingham Palace, and everything the budding young chef desperately wants: an escape from the constrictions of her life as a lowly servant. In the stranger's stead, Bella can spread her wings.
Arriving as Helen Barton from Yorkshire, she pursues her passion for creating culinary delights, served to the delighted Queen Victoria herself. Best of all, she's been chosen to accompany the queen to Nice. What fortune! Until the threat of blackmail shadows Bella to the Riviera, and a member of the queen's retinue falls ill and dies.
Having prepared the royal guest's last meal, Bella is suspected of the poisonous crime. An investigation is sure to follow. Her charade will be over. And her new life will come crashing down—if it doesn't send her to the gallows.
"…Sweeping and intimate, warm and gripping. I loved it!"
—Louise Penny, #1 New York Times bestselling author of the Chief Inspector Gamache novels
Buy it: Amazon | IndieBound | BN.com | Book Passage | Audible Audiobook
---
The Venice Sketchbook (April 2021)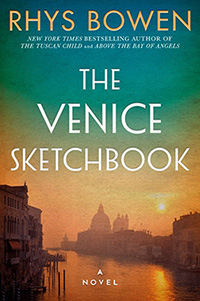 Caroline Grant is struggling to accept the end of her marriage when she receives an unexpected bequest. Her beloved great-aunt Lettie leaves her a sketchbook, three keys, and a final whisper…Venice. Caroline's quest: to scatter Juliet "Lettie" Browning's ashes in the city she loved and to unlock the mysteries stored away for more than sixty years.
It's 1938 when art teacher Juliet Browning arrives in romantic Venice. For her students, it's a wealth of history, art, and beauty. For Juliet, it's poignant memories and a chance to reconnect with Leonardo Da Rossi, the man she loves whose future is already determined by his noble family. However star-crossed, nothing can come between them. Until the threat of war closes in on Venice and they're forced to fight, survive, and protect a secret that will bind them forever.
Key by key, Lettie's life of impossible love, loss, and courage unfolds. It's one that Caroline can now make right again as her own journey of self-discovery begins.
Buy it: Book Passage | Amazon Bookshop.org | Books-A-Million | Barnes and Noble | The Poisoned Pen | Audible