Newsflash: In Farleigh Field nominated for an Edgar!

In Farleigh Field was nominated for a 2018 Edgar Award in the Best Paperback Original category!
It is also the winner of the Left Coast Crime Lefty Award (Bruce Alexander Memorial Award for Best Historical Mystery) and the winner of the Malice Domestic Agatha Award for Best Historical Mystery Novel.
On Her Majesty's Frightfully Secret Service has been nominated for an Audie Award in the Best Mystery Audiobook category.
Available Now: The Tuscan Child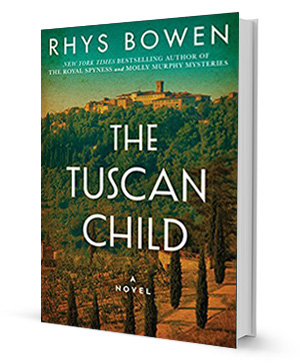 A Top Ten Amazon Bestseller, as well as a Wall Street Journal and Washington Post Bestseller!
In 1944, British bomber pilot Hugo Langley parachuted from his stricken plane into the verdant fields of German-occupied Tuscany. Badly wounded, he found refuge in a ruined monastery and in the arms of Sofia Bartoli. But the love that kindled between them was shaken by an irreversible betrayal.
Nearly thirty years later, Hugo's estranged daughter, Joanna, has returned home to the English countryside to arrange her father's funeral. Among his personal effects is an unopened letter addressed to Sofia. In it is a startling revelation.
Still dealing with the emotional wounds of her own personal trauma, Joanna embarks on a healing journey to Tuscany to understand her father's history—and maybe come to understand herself as well. Joanna soon discovers that some would prefer the past be left undisturbed, but she has come too far to let go of her father's secrets now…
Buy it: IndieBound | Amazon | BN.com | Book Passage
BREAKING NEWS
The next Royal Spyness novel, Four Funerals and Maybe a Wedding, will be published in August 2018. In the days leading up to her wedding to Darcy O'Mara, Lady Georgiana Rannoch takes on the responsibilities of a grand estate, but proving she can run a household just may be the death of her.