Available Now: The Ghost of Christmas Past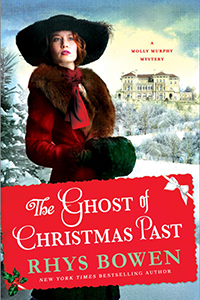 Semi-retired private detective Molly Murphy Sullivan is suffering from depression after a miscarriage following her adventure in San Francisco during the earthquake of 1906. She and her husband, Daniel, are invited for Christmas at a mansion on the Hudson, and they gratefully accept, expecting a peaceful and relaxing holiday season. Not long after they arrive, however, they start to feel the tension in the house's atmosphere. Then they learn that the host couple's young daughter wandered out into the snow ten years ago and was never seen again. Molly can identify with the mother's pain at never knowing what happened to her child and wants to help, but there is so little to go on. No ransom note. No body ever found. But Molly slowly begins to suspect that the occupants of the house know more than they are letting on. Then, on Christmas Eve, there is a knock at the door and a young girl stands there. "I'm Charlotte," she says. "I've come home."
Buy it: IndieBound | Amazon | BN.com | Book Passage | Audible Audiobook

Time for a new Lady Georgie adventure!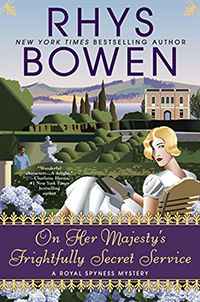 On Her Majesty's Frightfully Secret Service, the 11th book in the Royal Spyness series, is available now.
This book has Georgie doing a spot of real spying for the first time. And it's high stakes spying too, as European powers meet in Italy and there are behind the scenes negotiations going on. Of course, if Georgie's involved, you can bet that her spying will not run smoothly! And what about Darcy? Well, he's doing a spot of spying of his own!
"A delightful read. It combines an old fashioned who done it mystery with social commentary, humor, true 1930s historical content, and fun loving characters."
—Crimespree Magazine
In Fairleigh Field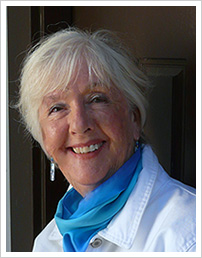 Rhys is thrilled to announce the publication on March 1, 2017, of her first big stand-alone thriller, In Farleigh Field.
World War II comes to Farleigh Place, the ancestral home of Lord Westerham and his five daughters, when a soldier with a failed parachute falls to his death on the estate. After his uniform and possessions raise suspicions, MI5 operative and family friend Ben Cresswell is covertly tasked with determining if the man is a German spy. The assignment also offers Ben the chance to be near Lord Westerham's middle daughter Pamela, whom he secretly loves. But Pamela has her own secret: she is working at Bletchley Park, the British code-breaking facility.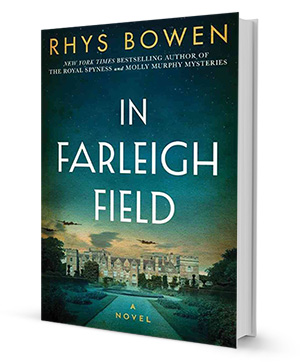 As Ben follows a trail of spies and traitors, which may include another member of Pamela's family, he discovers that some within the realm have an appalling, history-altering agenda. Can he, with Pamela's help, stop them before England falls?
Early reviews have been stellar:
"Instantly absorbing, suspenseful, romantic and stylish—like binge-watching a great British drama on Masterpiece Theater."
—Lee Child
"Rhys Bowen is one of the very best fiction writers of the day. With a deep understanding of the wounded human heart, and an uncanny ability to capture the quiet emotions and the grand scale of war, she rises above her contemporaries. This is magnificently written and a must read."
—Louise Penny
Buy it: IndieBound | Amazon | BN.com | Book Passage | Audible Audiobook
BREAKING NEWS
The Tuscan Child, a new stand-alone, will be published on Feb. 20, 2018.