Welcome to the website of New York Times bestseller and Agatha and Anthony award-winning author Rhys Bowen, creator of the atmospheric Molly Murphy mysteries, set in turn-of-the-century New York City, and the Royal Spyness mysteries, sparkling British comedies featuring penniless minor royal Lady Georgiana in the 1930s.
Breaking News
Rhys begins a new venture! DREAMWALKER, BOOK ONE IN THE RED DRAGON ACADEMY SERIES, a middle-grade fantasy Rhys has written with her daughter Clare Broyles, is now available as a paperback and an e-book on all platforms. Links on the Red Dragon Academy page.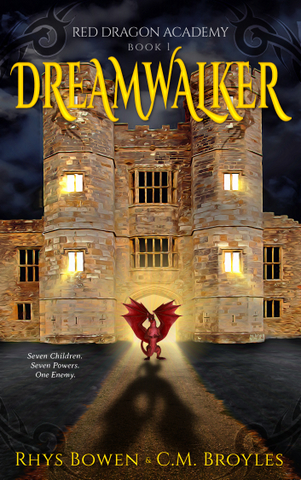 Queen of Hearts has received a starred review from Publishers Weekly, which wrote: "Bowen's eighth Royal Spyness mystery is a showcase for the series' many strengths… Fans of P.G. Wodehouse looking for laughs mingled with some amateur sleuthing will be quite pleased."
The audiobook version of Rhys's The Twelve Clues of Christmas has won an Audie Award! The Royal Spyness mystery won the trophy for Best Solo Narration—Female. Heirs and Graces was also nominated for an Audie, in the Best Mystery Audiobook category. Both books were narrated by Katherine Kellgren. Listen to a sample of The Twelve Clues of Christmas audiobook on SoundCloud.