Coming in February: The Victory Garden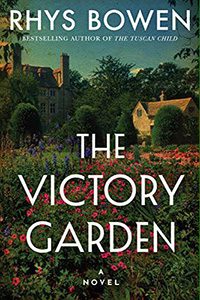 As the Great War continues to take its toll, headstrong twenty-one-year-old Emily Bryce is determined to contribute to the war effort. She is convinced by a cheeky and handsome Australian pilot that she can do more, and it is not long before she falls in love with him and accepts his proposal of marriage.
When he is sent back to the front, Emily volunteers as a "land girl," tending to the neglected grounds of a large Devonshire estate. It's here that Emily discovers the long-forgotten journals of a medicine woman who devoted her life to her herbal garden. The journals inspire Emily, and in the wake of devastating news, they are her saving grace. Emily's lover has not only died a hero but has left her terrified—and with child. Since no one knows that Emily was never married, she adopts the charade of a war widow.
As Emily learns more about the volatile power of healing with herbs, the found journals will bring her to the brink of disaster, but may open a path to her destiny.
You can pre-order it now from Amazon, IndieBound, BN.com or Book Passage.
Available Now: Four Funerals and Maybe a Wedding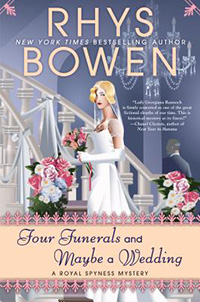 If only Darcy and I had eloped! What I thought would be a simple wedding has been transformed into a grand affair, thanks to the attendance of the queen, who has offered up the princesses as bridesmaids. Silly me! I thought that withdrawing from the royal line of succession would simplify my life. But before Darcy and I tie the knot in front of queen and country, we have to find a place to live as man and wife…
House hunting turns out to be a pretty grim affair. Just as we start to lose hope, my globetrotting godfather offers us his fully staffed country estate. Mistress of Eynsleigh I shall be! With Darcy off in parts unknown, I head to Eynsleigh alone, only to have my hopes dashed. The grounds are in disarray and the small staff is suspiciously incompetent. Not to mention the gas tap leak in my bedroom, which I can only imagine was an attempt on my life. Something rotten is afoot—and bringing the place up to snuff may put me six feet under before I even get a chance to walk down the aisle…
Buy it: IndieBound | Amazon | BN.com | Book Passage | Audible Audiobook
BREAKING NEWS
The Victory Garden has been chosen as one of BookBub's Biggest Books Coming Out Winter 2018!
Four Funerals and Maybe a Wedding has been nominated for a Left Coast Crime Lefty Award (Bruce Alexander Memorial Award for Best Historical Mystery)! The winners will be announced at the LCC Awards Banquet on Saturday, March 30.
In Farleigh Field was nominated for a 2018 Edgar Award in the Best Paperback Original category!
It was also the winner of the Left Coast Crime Lefty Award (Bruce Alexander Memorial Award for Best Historical Mystery), the winner of the Malice Domestic Agatha Award for Best Historical Mystery Novel and the winner of the Macavity Award (Sue Feder Memorial Award for Best Historical Novel).