Coming in February 2020: Above the Bay of Angels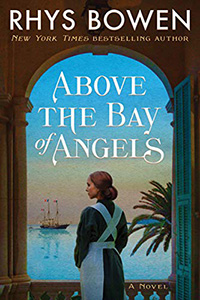 Isabella Waverly only means to comfort the woman felled on a London street. In her final dying moments, she thrusts a letter into Bella's hand. It's an offer of employment in the kitchens of Buckingham Palace, and everything the budding young chef desperately wants: an escape from the constrictions of her life as a lowly servant. In the stranger's stead, Bella can spread her wings.
Arriving as Helen Barton from Yorkshire, she pursues her passion for creating culinary delights, served to the delighted Queen Victoria herself. Best of all, she's been chosen to accompany the queen to Nice. What fortune! Until the threat of blackmail shadows Bella to the Riviera, and a member of the queen's retinue falls ill and dies.
Having prepared the royal guest's last meal, Bella is suspected of the poisonous crime. An investigation is sure to follow. Her charade will be over. And her new life will come crashing down—if it doesn't send her to the gallows.
"…Sweeping and intimate, warm and gripping. I loved it!"
—Louise Penny, #1 New York Times bestselling author of the Chief Inspector Gamache novels
You can pre-order it now from Amazon, IndieBound, BN.com or Book Passage.
Available Now: Love and Death Among the Cheetahs, the new Royal Spyness Mystery!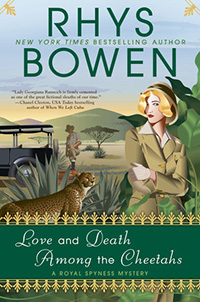 I was so excited when Darcy announced out of the blue that we were flying to Kenya for our extended honeymoon. Now that we are here, I suspect he has actually been sent to fulfill another secret mission. I am trying very hard not to pick a fight about it, because after all, we are in paradise! Darcy finally confides that there have been robberies in London and Paris. It seems the thief was a member of the aristocracy and may have fled to Kenya. Since we are staying in the Happy Valley—the center of upper-class English life—we are well positioned to hunt for clues and ferret out possible suspects.
Now that I am a sophisticated married woman, I am doing my best to sound like one. But crikey! These aristocrats are a thoroughly loathsome sort enjoying a completely decadent lifestyle filled with wild parties and rampant infidelity. And one of the leading lights in the community, Lord Cheriton, has the nerve to make a play for me. While I am on my honeymoon! Of course, I put an end to that right off.
When he is found bloodied and lifeless along a lonely stretch of road, it appears he fell victim to a lion. But it seems that the Happy Valley community wants to close the case a bit too quickly. Darcy and I soon discover that there is much more than a simple robbery and an animal attack to contend with here in Kenya. Nearly everyone has a motive to want Lord Cheriton dead and some will go to great lengths to silence anyone who asks too many questions. The hunt is on! I just hope I can survive my honeymoon long enough to catch a killer…
Buy it: IndieBound | Amazon | BN.com | Book Passage