Available Now: Love and Death Among the Cheetahs, the new Royal Spyness Mystery!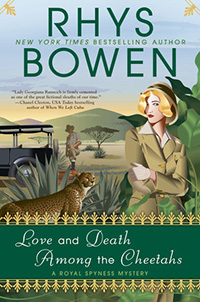 I was so excited when Darcy announced out of the blue that we were flying to Kenya for our extended honeymoon. Now that we are here, I suspect he has actually been sent to fulfill another secret mission. I am trying very hard not to pick a fight about it, because after all, we are in paradise! Darcy finally confides that there have been robberies in London and Paris. It seems the thief was a member of the aristocracy and may have fled to Kenya. Since we are staying in the Happy Valley—the center of upper-class English life—we are well positioned to hunt for clues and ferret out possible suspects.
Now that I am a sophisticated married woman, I am doing my best to sound like one. But crikey! These aristocrats are a thoroughly loathsome sort enjoying a completely decadent lifestyle filled with wild parties and rampant infidelity. And one of the leading lights in the community, Lord Cheriton, has the nerve to make a play for me. While I am on my honeymoon! Of course, I put an end to that right off.
When he is found bloodied and lifeless along a lonely stretch of road, it appears he fell victim to a lion. But it seems that the Happy Valley community wants to close the case a bit too quickly. Darcy and I soon discover that there is much more than a simple robbery and an animal attack to contend with here in Kenya. Nearly everyone has a motive to want Lord Cheriton dead and some will go to great lengths to silence anyone who asks too many questions. The hunt is on! I just hope I can survive my honeymoon long enough to catch a killer…
Buy it: IndieBound | Amazon | BN.com | Book Passage
Available Now: The Victory Garden
#6 on the Wall Street Journal bestseller list, #11 on the Amazon Charts and #22 in USA Today!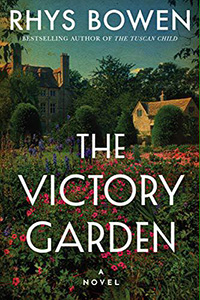 As the Great War continues to take its toll, headstrong twenty-one-year-old Emily Bryce is determined to contribute to the war effort. She is convinced by a cheeky and handsome Australian pilot that she can do more, and it is not long before she falls in love with him and accepts his proposal of marriage.
When he is sent back to the front, Emily volunteers as a "land girl," tending to the neglected grounds of a large Devonshire estate. It's here that Emily discovers the long-forgotten journals of a medicine woman who devoted her life to her herbal garden. The journals inspire Emily, and in the wake of devastating news, they are her saving grace. Emily's lover has not only died a hero but has left her terrified—and with child. Since no one knows that Emily was never married, she adopts the charade of a war widow.
As Emily learns more about the volatile power of healing with herbs, the found journals will bring her to the brink of disaster, but may open a path to her destiny.
You can buy it now from Amazon, IndieBound, BN.com or Book Passage.
BREAKING NEWS
Four Funerals and Maybe a Wedding was nominated for the Left Coast Crime Lefty Award (Bruce Alexander Memorial Award for Best Historical Mystery) and the Agatha Award for Best Historical Novel!
The Tuscan Child has passed 500,000 copies sold!
The Victory Garden was chosen as one of BookBub's Biggest Books Coming Out Winter 2018!