Short Bio: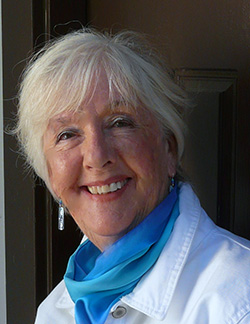 Rhys Bowen is the New York Times Bestselling Author of the Royal Spyness Series, Molly Murphy Mysteries, and Constable Evans. She has won the Agatha Best Novel Award and has been nominated for the Edgar Best Novel. Rhys's titles have received rave reviews around the globe.
On March 1, 2017, Rhys is excited to announce the publication of her first big stand-alone thriller, In Farleigh Field, set in World War Two at an English stately home.  It has already received stellar reviews.
Rhys currently writes two mystery series, the atmospheric Molly Murphy novels, about a feisty Irish immigrant in 1900s New York City, and the funny and sexy Royal Spyness mysteries, about a penniless minor royal in 1930s Britain. Her books have made bestseller lists, garnered many awards, nominations, and starred reviews. She was born in England and married into a family with historic royal connections. She now divides her time between California and Arizona.
Long Bio: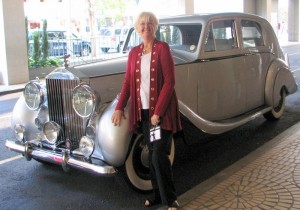 Rhys Bowen was born in Bath, England, of a family that was half Welsh, half English. She was educated at London University and then began her career with the BBC, where she became a drama studio manager. She had made up stories all her life. While working on a boring play she decided to write a play of her own. With the bravado of a 22-year-old, she marched into the office of the head of BBC drama and handed him the script. Two days later he summoned her and told her that they were going to produce the play. Rhys has never looked back.
The British climate forced Rhys to escape to Australia, where she worked for Australian Broadcasting before meeting her future husband, a fellow Brit who was on his way to California. So Rhys packed up again and found herself in San Francisco, where she settled and has lived ever since, raising four children.
Finding nothing like the BBC in San Francisco, Rhys turned to writing children's books under her married name, Janet Quin-Harkin. Her first picture book was an immediate success and won several awards. More picture books followed, then her agent asked her to write a book for young adults. This was a turning point in Rhys's career. Her first young adult novel was an instant hit. By her third she was selling half a million copies. Many more popular YA novels followed until Rhys decided she had said all she wanted to say about teenage love and angst, and she turned to her real love—mysteries.
The sort of books she loves to read are those with a great sense of time and place. So she considered where to set a series of her own and chose the mountains of North Wales, where she had spent many happy childhood vacations, and used her grandfather's name as her nom de plume. Constable Evan Evans was the hero of these novels that took place in a tiny fictitious village in Snowdonia. The series was well received from the start. The second book, Evan Help Us, was nominated for a Barry Award. Evan's Gate achieved the ultimate success when it was nominated for the Edgar best novel—the highest prize in mysterydom.
But it was a chance visit to Ellis Island that made Rhys start thinking in a new direction. The spunky and not always wise Molly Murphy came into her head, fleeing from Ireland and finding herself implicated in a murder on Ellis Island in the first book, Murphy's Law. This book won the Agatha Best Novel award, plus three others. Every subsequent book in the series has received awards, nominations and glowing reviews. Book 11, Hush Now, Don't You Cry, was a New York Times bestseller. Book 16, Time of Fog and Fire, was published in March 2016, and Book 17, The Ghost of Christmas Past, will be a Christmas book in 2017.
Never one to rest on her laurels, Rhys reacted to the gloom and doom of real life by creating a second heroine—this one aimed to amuse. She is Lady Georgiana, 34th in line to the British throne but utterly penniless and struggling to make her own way in the cruel world of the Great Depression. Her Royal Spyness was a bestseller, nominated for many awards, and instantly endeared readers to her heroine. The following books have all received award nominations. The 2011 book, Naughty in Nice, started off with a starred review from Publishers Weekly and was then nominated for an Agatha, Bruce Alexander and RT Reviews award. The audio version was also nominated for an Audie. In April 2012 it won the Agatha Award for best historical mystery. Queen of Hearts (2014) won the Agatha Award. Malice at the Palace (2015) was nominated for the Agatha and won the Left Coast Crime historical award.
On March 1, 2017, Rhys is excited to announce the publication of her first big stand-alone thriller, In Farleigh Field, set in World War Two at an English stately home.  It has already received stellar reviews.
Rhys is listed in Who's Who in America under her married name, Janet Quin-Harkin.
In 2016 Rhys was honored with a career achievement award by the RT Convention.
As well as novels, Rhys has written many short stories, including an Anthony winner. She is an ex-chapter president of Mystery Writers of America. When not writing she loves to travel, sing, hike, paint, play her Celtic harp, and spoil her grandchildren.